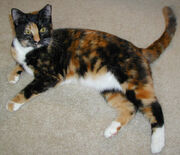 Dapplestar is a tortoiseshell she-cat and the ShadowClan leader In "The Outsider". She is one of the few cats (Along with Frog-eye, Dragonkit, Driftkit, Falconkit, and Runningkit) who trusts Thistle

Her mate and deputy is Cloudfall. The two begin to grow distant after their daughter, Stormcloud's, death.
Her mother is Redwhisker and her father is Sunstripe(A ThunderClan tom) No-one mentions she is half-clan since she is the leader.
Family
Mate:Cloudfall
Mother:Redwhisker
Father:Sunstripe
Daughter:Stormcloud
Granddaughter:Driftkit
Grandsons:Dragonkit, Falconkit
Ad blocker interference detected!
Wikia is a free-to-use site that makes money from advertising. We have a modified experience for viewers using ad blockers

Wikia is not accessible if you've made further modifications. Remove the custom ad blocker rule(s) and the page will load as expected.