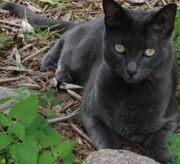 Dragonkit is a dark gray tom. His mother, Stormcloud, dies giving birth. His father , Thistle, takes him and his sibling to ShadowClan and they are given milk by Frog-eye. Frog-eye, Runningkit, and Dapplestar are the only ones who trust Falconkit, Thisle, Dragonkit, and Driftkit. Dragonkit becomes Dragonpaw with Lizardclaw as his mentor.
Family
Mother:Stormcloud
Father:Thistle
Foster Mother:Frog-eye
Sister:Driftkit
Brother:Falconkit
Grandmother:Dapplestar
Grandfather:Cloudfall
Ad blocker interference detected!
Wikia is a free-to-use site that makes money from advertising. We have a modified experience for viewers using ad blockers

Wikia is not accessible if you've made further modifications. Remove the custom ad blocker rule(s) and the page will load as expected.