Flood is a dark silver tabby she-cat with beautiful green eyes. she is a rouge, and was Feather's friend as a kit, and is his cousin.Her front left leg is broken from Hydra when she was possesed. She was the first to figure out that Hydra had been possesed by Draco.. Rped by: Silverwhisker
Flood
250px

Alliances
Current Clan
Rogues
Past Clan(s)
None
Names
Names
Rogue: Flood
Family
Mother
Unknown
Father
Unknown
Littermates
None
Mate
Gold
Kit(s)
None
Education
Mentor(s)
None
Apprentice(s)
None
Alliances
Roleplayer
Silver
Additional Info
Flood loves her Adopted Family dearly. (The Loner Group). Her best friend is Hydra, her family's guardian.
Silverwhisker's art: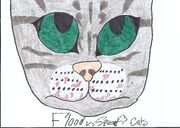 Ad blocker interference detected!
Wikia is a free-to-use site that makes money from advertising. We have a modified experience for viewers using ad blockers

Wikia is not accessible if you've made further modifications. Remove the custom ad blocker rule(s) and the page will load as expected.