(named after meh! :D) Nightclaw is a black and white muscular cat, he is the brother of Snowpaw.
Additional info
Nightclaws mom is Frostriver and his dad was killed by a dog, he is from Riverclan, he does not have a mate yet,and he loves to fight and go on patrol.
his personality is:kindish, and not nice to cats he doesn't like.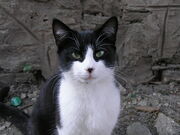 Ad blocker interference detected!
Wikia is a free-to-use site that makes money from advertising. We have a modified experience for viewers using ad blockers

Wikia is not accessible if you've made further modifications. Remove the custom ad blocker rule(s) and the page will load as expected.